From the first moment EDYPRO biotechnology opened its doors, we have been by our customers' side, offering them the best advice to take their crops to the top. Clients who have trusted and continue to trust biotechnology as an intelligent solution to the numerous problems that agriculture presents on a daily basis.
For this reason, at EDYPRO we would like to thank you for the trust you have placed in us, as our products are a success, and it is not because we say so. Each of our customers endorses the results of our biotechnology in their crops. Proof of this are the photographs and videos they send us, proud of their crops and the results at the end of the campaign.
Below, a large number of customers, collaborators and distributors have given their testimonials about what EDYPRO has meant for their crops or their companies:
José Rivera, citrus grower from Torres Torres: "I have known Vicente since 1992 and when he embarked on this project, I had no hesitation in backing him. He gives you a lot of confidence because he has a very good reading of the fields and the plants, you feel that he really cares about your work".
"I know EDYPRO products well because I have been working as a distributor for years, but they also offer results that, with consistency and assiduity, are long-lasting. When the crop is in a critical state with little action, the results are spectacular. If you compare them with other products, you can see the difference instantly".
Cristóbal Pérez, agricultural engineer at Cerrillo y Pérez S.L.: "The first product I tried 17 years ago was PROCUAJE RADICULAR. It gave us excellent results and, little by little, we incorporated more products. Every time a new EDYPRO solution appears, we try it, as we have always obtained good results".
Strawberry crop treated with PROCUAJE RADICULAR
"While almost all fertiliser manufacturers are striving for higher quality nutrients, EDYPRO has gone two steps ahead and has managed to apply biotechnology to agriculture in an easy, clean and environmentally friendly way, without residues or hormones. In addition, Vicente has helped us to get to know his products well. Here it was an unknown brand and he has made himself known in the field, looking for farms with problems, which is where the efficacy of the products is most clearly seen. Thanks to the work of the whole team, our clients are satisfied and fully trust our recommendations".
Javier Ribelles, manager of Fruteq: "For me the star product is ORGANOVITAL PLUS. 99% of our clients grow citrus and this product is the one that allows you to see the most spectacular results. With the application of this product on trees that are in decline, the change is almost immediate".
"The use of ORGANOVITAL PLUS, together with COUPE REGENERATION PLUS is a recommendation that we systematically make to all our customers, both clementine and orange growers. With these two, together with BIDESINFECTION PLUS, we have obtained very good results in farms that seemed to be lost".
Application of ORGANOVITAL PLUS on citrus fruits
"The shops themselves, when they come to buy the fruit, ask what do you do to make your fruit better? Vicente is a great expert and what makes them stand out, apart from the obvious effects on the crops, is his after-sales service".
Paco Martín, technical director of Pavisa Alginet: "EDYPRO is a company you can fully trust. With its products, the best results are achieved. In addition, the R+D+i department is always ready to solve new problems that arise in the crops. It is a company at the forefront of biotechnology and a pioneer in quality agriculture without residues".
Ramón Marruecos, manager of R. Marruecos: "The biotechnology that EDYPRO is using is giving very good results and we always recommend them for our supply store, as we test them on our farm and we know what we are offering".
"The crop yields with these products are evident, for example, we have given our watermelons two passes of PROCUAJE RADICULAR and to complete a pass of EXTRACUAJE and the results are unbeatable".
Application of PROCUAJE RADICULAR and EXTRACUAJE in watermelon cultivation.
Pepe Chazarra, technical director of Fitoser Agro SL: "With the appropriate use of certain products and technologies, as well as proper crop management, better harvests and high quality fruit are obtained. EDYPRO, in addition to tangible results, offers added value such as technical assistance that differentiates it from the competition and certain marketing actions that help to satisfy clients such as prize draws or trips".
Emilio Bautista, technician at Fitoponiente 2011: "We have had many cases in which the different EDYPRO products have substantially changed or improved the results of a crop. We have greatly improved the life of tired soils, the vigour of the plant, we have achieved a more numerous and higher quality flowering, larger and more uniform fruit, a more homogeneous ripening and, above all, a better post-harvest".
"In addition, EDYPRO can solve the different crop problems without any type of residue. They are very cutting-edge products on the market, which adapt to any farmer, both in conventional and organic crops and this is very important to market the fruit without any residues for the farmer or the consumer".
Jesús González, manager and technical director of Suministros Agrícolas Fitocañada: "EDYPRO is synonymous with quality and trust. They are always interested in solving problems in the field. Without a doubt, when we apply one of their products we can see a considerable increase in production and an extraordinary quality".
"Just as a football team should consist of a good defence, midfield and strikers, EDYPRO's solutions range from good fruit set with balanced plant growth to proper fruit fattening and ideal ripening. In addition, it has a biotechnological range of products that boost the plant's defences against pests and diseases, making its catalogue even more attractive".
Juan Ramos Capllure, rice grower in the province of Valencia: "I really appreciate the fact that they have organic products that can be used for Pyricularia such as PODIUM ARROZ. And as we have a limit of nitrogen units/ha for fertilisation, we have to resort to EDYPRO products which are a very good complement that other companies don't have. In addition, I have noticed a big difference at the end of the harvest in terms of quality and quantity".
Joaquín Torres, farmer and winner of the competition for a trip to Cuba: "I got to know your products at a conference and after a visit from Vicente Puchol, he recommended some of EDYPRO's biotechnological solutions and from then on the results I obtained convinced me".
"What we value most in EDYPRO solutions is that they are residue-free. Working with residue-free biotechnological solutions benefits the soil, the consumer and agriculture. In addition, it is important to highlight the way the technicians treat you and advise you very well when they come to see the farm. This work of being close to the farmer and giving advice does a lot and says a lot about the company".
David Peña, farmer and winner of the trip to Dubai and the Maldives: "What I value most is the innovation and the solutions it provides to the problems in the field. EDYPRO is constantly researching to provide current solutions to the field and therefore never lags behind. In addition, the proximity it has with the distributor and farmer and the technical advice it applies to the problems that arise in the field".
"And something very important that other companies in the sector lack is the commitment it is making to communication in social networks and the media because this gives a lot of visibility to agriculture and the company to reach the farmer and it is also another way of innovating".
Vicente Miñana, from ACTIVIAL Coop.V.: "One of the products that surprised me the most and confirmed the success of the change was ENDOFOSFITO. After only 12 days of application, the improvement is already noticeable. We have practically worked on the entire catalogue because we are 100% committed to EDYPRO and the customers' perception is very good, as they can see the results and they do not ask for the price, but for quality and ecological products".
Performance of ENDOFOSFITO in citrus fruits
José Manuel Mora, Technical Director of Citruscoop: "The products we spend the most on are mainly aimed at citrus growing and they all work and meet what we are looking for. The trees are in good condition, the quality of the fruit is good and the fruit is optimal for today's demands".
"The technical support provided by Vicente Puchol is an added bonus because he advises you on the right product at the right time and this is an important factor that other companies don't have. He is not someone who simply sells you his products, he is concerned that his products are suited to your needs".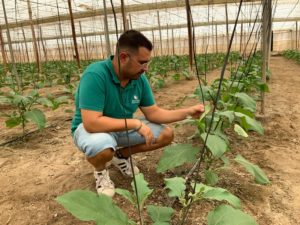 Ismael Sánchez, from CampoLevante: "Our customers are delighted with COUPÉ REGENERACIÓN Plus and, above all, with PROCUAJE RADICULAR. But, without a doubt, the added value of EDYPRO is Vicente's close relationship with us. He is a person who knows a lot about agriculture and is passionate about his work, something that helps us to always be on the job with the energy we need on a daily basis".
Field results after application of COUPÉ REGENERACIÓN Plus.