Calcium deficiency
PROBLEM
Calcium is one of the most important nutritional elements since it is found throughout the plant and is essential for its proper development and stability.
It promotes cell elongation, strengthens cell structures, protects the plant from diseases and stress due to extreme temperatures. It has an important role in the use of other nutrients, which is why it affects the final quality of the plant and the fruits, and as a consequence, in the final harvests.
In intensively cultivated vegetables (tomato, pepper, aubergine, zucchini and cucumber), calcium deficiency is difficult to manage and represents a problem in vegetable production due to the putrescence of the apex of the fruit that causes this deficiency.
The mobility of calcium in plants is limited and calcium deficiency appears in the youngest leaves and fruit, as they have a very low transpiration rate. Therefore, it is necessary to have a supply of calcium for continued growth.
The lack of calcium can be due to different reasons: lack of assimilable calcium in the soil, low level of contributions or lack of assimilation by the plant.
Below are some images of some tomatoes, peppers and citrus fruits, affected by the "Peseta" symptom, caused by a localized deficiency of calcium in the fruit tissues, which can lead to internal rot.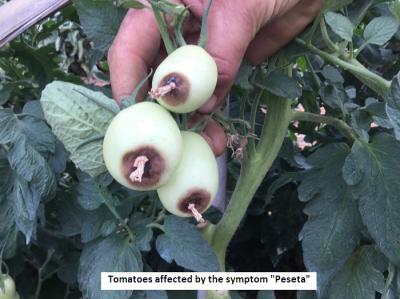 SOLUTION
HYDROCAL is a rapidly absorbing corrector of calcium deficiency, highly valued by farmers who apply it to their crops. It displaces the toxic salts of the soil accumulated by the irrigation waters and the application of some fertilizers and increases the consistency and color of the fruits in the ripening phase.
In crops lacking in this micro-element, EDYPRO recommends to provide first the application of COUPÉ REGENERACIÓN Plus, at a dose of 60-80 L./ha. per application and later, HYDROCAL via irrigation at a dose of 20 L./ha., every 15 days.
Though, the applications and the doses depends on the exact situation of the lack of calcium.
Related products