In late May in one plot of variety ORRI we have found a troubling behavior of the trees:
It apparented deficiencies of microelements such as calcium and magnesium.

Having an inadequate sprouting for the season.

And recently setted fruits were about to abort.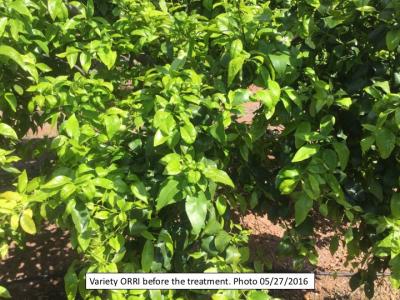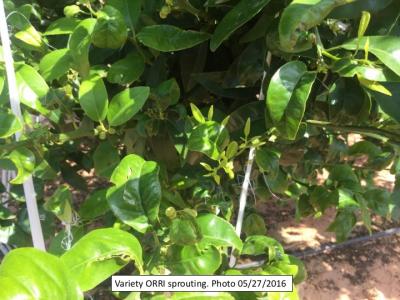 Among the urgent measures we have recommended and have been launched, the most important impact has been the biotech treatment to redirect the vegetative behavior of the trees:
This treatment acts on the immune system increasing the formation of carbohydrates that directly will nourish the newly setted fruits and see their response in changing of its colour and fruit size.
PROCUAJE FOLIAR to increase daily photosynthesis.
ALGATRON to increase the segregation of hormones by the tree to reach its hormonal balance halt the necessity to vegetate.
HYDROCAL in order to increase the osmotic potential of the plant.
CUPRO-PLUS MAX to generate the effect of vegetative stop needed at this time.
The amazing results began to notice within 24 hours of the treatment and in four days the trees had a very good performance with consolidated fruits and yhe sprouting stopped.
Another important effect we have seen in the level of chlorophyll in the leaves: in the analysis made on May 27 and June 3 it increased about 5 points.
In the photos below you can see the state of the trees and how its appearance has changed after the treatment done.
These are the amazing results of the Biotechnology of EDYRPO!
We are at your full disposal to help in improving your crop production!